Quad Cities Wallpaper Removal Page
Below you will find my technique for removing wallpaper right here in the Quad Cities.
Quad Cities wallpaper removal step 1...Prepare the room.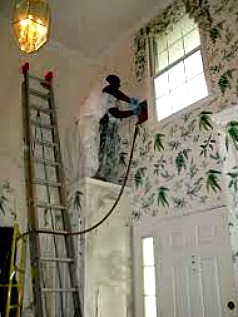 Quad Cities wallpaper removal jobs can be a challenge ... how to prepare the Room for wallpaper removal...there are few jobs around the house that can cause as much mess as stripping wallpaper so prepping the room is vital.......remove all outlet covers from walls and tape of so water does not get into electrical outlets......pull all furniture to the middle of the room and cover with light weight plastic for protection.......clean off baseboards with damp cloth and when dry install 2 inch blue painters tape to protect......then using the edge of the tape apply plastic sheeting that covers the baseboard and goes out onto the floor for protection from water......finally after you have done this all around the room put some cloth tarps down to help keep the mess from tracking all over the house....now your room is prepped its time for a nap...just kidding.
Quad Cities Wallpaper Removal step 2...Scoring the wallpaper.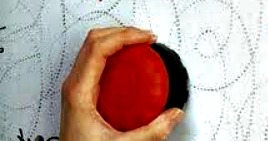 When 

scoring the Wallpaper

 its best to use a wallpaper scorer to create small holes in the paper which allows the solution to penetrate through to the adhesive base...be very 

careful

 not to press too hard as you will score the drywall or plaster underneath the wallpaper..and thats a beast you 

don't

 want to let out of the cage...ruining the wall surface can be fixed but it is a time consuming and possible expensive mistake so go gentle.

Quad Cities Wallpaper Removal Step 3...Prepare the stripping solution.
 Mix Solution of diff wallpaper stripper in a 2 gallon garden sprayer this will help you get good coverage on the wallpaper surface and help the wallpaper separate from the wall
Quad Cities Wallpaper Removal step 4...soaking the walls again.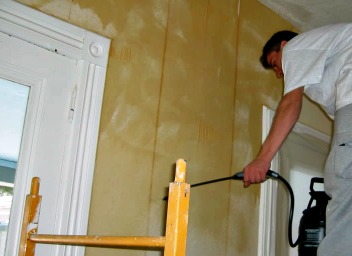 2 gallon sprayer with diff solution to aid wallpaper removal
Soak Walls again..reason is it never fully penetrates on the first soaking so why fight it this is a job that requires patience. (i usually will soak a section the wait 15 minutes say 4 to 5 ft wide and from top to bottom then i will move onto the next section for the first coat and come back to the first section for a second dousing..this usually helps keep the project from dragging on to long).

Quad Cities Wallpaper Removal step 5...Stripping Wallpaper.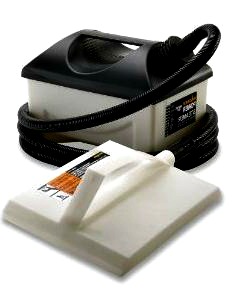 that british painter wallpaper removal tool
Stripping Wallpaper, now we have finally arrived at the fun stuff..if all has gone according to plan the stripping the wallpaper should not be too bad..yeah right..take a 4 to 6 inch broad knife with a sharp edge to it and near the seam at the ceiling pick at the edge if the solution has done its job you should be able to start separating the wallpaper from the wall ...try pulling across the ceiling first then if it feels like it's coming away well put steady pressure on both edges and lightly pull down..if all goes well and you manage to remove an entire sheet in one piece stop what you are doing and go get a lottery ticket because this is your lucky day...rinse and repeat going all around the room...i would tell you to stick to one wall at a time so when you have one done you can see real progress...once you have a wall done sweep up and bag the debris so you don't cake your shoes in it...less mess less stress!!!!

Quad Cities Wallpaper Removal step 6...Cleaning walls.
Clean Walls with a solution of white distilled vinegar and warm water wiping with a cloth just enough to wet down the walls and let penetrate any leftover glue still on the walls..if you 

don't

 do this when you go to paint your walls are going to "fluff up"...to remove the glue use your six inch broad knife and go over the entire wall starting at the top again and working towards to baseboard..use a damp cloth to wipe off excess glue on knife as this can get messy...rinse and repeat till all glue has been removed..if you run your hands over the walls you will be able to tell if its all off....congrats your almost done

Wallpaper Removal step 7...clean up times arrived

.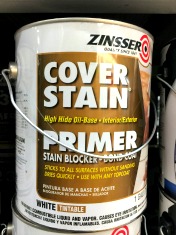 If you haven't been able to get all the stubborn wallpaper glue off the walls you just stripped and cleaned you will have to prime the surface with a quality oiled based primer to seal the walls otherwise you are going to reactivate the old paste with a water based primer
This can cause your walls to become very bumpy and the finished product less than desirable....Proper preparation is the key to a quality finished product so don't skip any of these steps.
now of course having shared my process you could do the wallpaper removal yourself and thats fine but for those of you who would like to pass on the hassle then get ahold of me for a

FREE

QU

OTE for any Quad Cities wallpaper removal jobs.
---