Welcome To The Quad Cities Deck And Fence Staining Page.
Below You Will Find A list Of Service That British Painter Provides For Quad Cities Deck And Fence Staining Jobs.
Protect and enhance your Quad Cities Deck.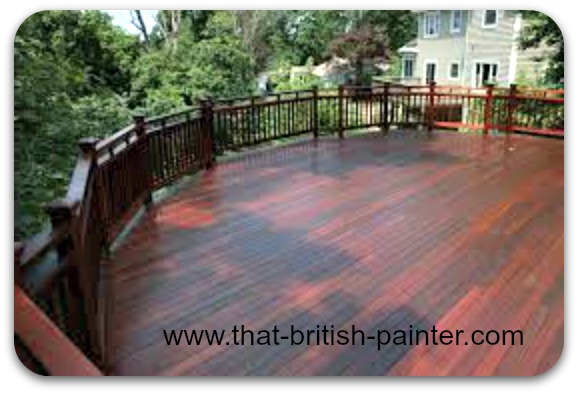 an Expansive Davenport Iowa deck stained by that british painter
A custom made deck left to the elements very quickly starts to lose its appeal and its integrity..a well maintained deck is one that is regularly stained and sealed for protection against the elements here in the quad cities 
This Davenport Iowa deck is how a well a well maintained deck should look like...if your deck is looking grey and weathered and maybe a little slimy then why not have That British Painter come over and give you a FREE QUOTE today...you have nothing to lose and you might just gain your outside living space again.
Call before your deck has gone too far and needs to be replaced.
---
Quad Cities Deck cleaning and staining

.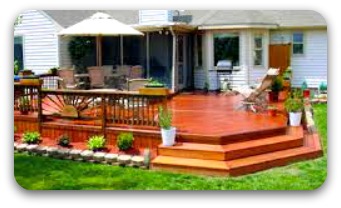 Large Family Deck in Moline Illinois
To the Left is a lovely example of what a Quad Cities deck can look like after it has been cleaned and stained in a gorgeous rich color...
decks like this one in Moline Illinois make it a pleasure to come home to after a long day at work and just relax with your family for 40 minutes or so.
---
Quad Cities Custom Staining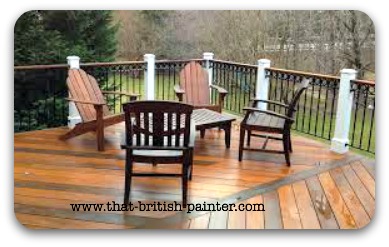 Bettendorf Iowa deck Custom Stained BY That British Painter
If you should decide you would like to enhance the look of your deck then consider the possibility of custom staining the floor.
As you can see from the picture on your left the visual impact of custom staining can be quite dramatic and very eye appealing..who wouldn't like to entertain on such a space as this Bettendorf Iowa deck flanked by lush mature evergreen for privacy.
---
Adding a pergola to existing Quad City deck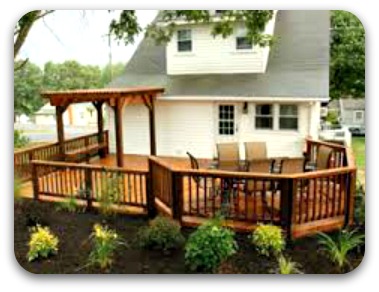 East Moline Deck and pergola by That British Painter
Whilst sitting on your deck have you ever thought it needed a little something else, why not consider adding a pergola for some visual interest, dappled shade and a place to put hanging baskets...please give Darren Crumbleholme a call at 309-791-2270 and discuss your ideas 
He will be more than happy to meet you with his master carpenter to see what possible options you may have to enhance your Quad Cities deck, Contact That British Painter today.
---