Welcome To The Quad Cities Gutter Cleaning Page.
Below you will find a List of services That British Painter provides for Quad Cities Gutter Cleaning Jobs.
Gutter Cleaning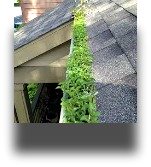 cleaning quad cities gutters can be almost like weeding the garden sometimes
How do Quad Cities homeowners ever expect their gutters to help protect their homes foundations when they let the them get in such a terrible state like the picture to the left.
Take a walk around your house and check out your gutters, can you see the need for taking a weed trimmer to them, if so give That-British-cleaner a call today and I will pop over and give you a free quote on the spot to clean out your gutters and help protect your home from water damage and rot,
If you are unsure when you last cleaned out your gutters then You better call before the weight of the dirt pulls them off the house causing lots of damage and certainly costing a small fortune to fix.
Cleaning the Exterior of the Gutter 
---

cleaning the exterior of the gutters is a service that british painter provides
After That British Painter cleans out your gutters then why not have us also clean the exterior of your gutters and downspouts too, this is something once  done will last for a couple of seasons so we suggest the exterior cleaning ever other year.
for an additional fee we can practically make them look new again and you won't have to look at them in disgust.
---
Gutter Repairs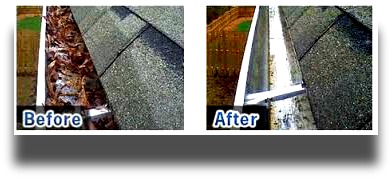 which gutter do you prefer?
Whilst we are up at your roofline cleaning out your gutters we can access the integrity of your gutters and downspouts noting anything that needs attention and making suggestions to the homeowner for correcting any defects.

Gutters not properly attached.

Seams not adequately sealed.

Downspouts terminating next to Foundation.
These problems can all be fixed at the same time as we are there to do your gutter cleaning and could help you divert any costly repairs in the future.
We remove all the leaves etc from your gutters and take it all away with us when we leave
Call Darren today at 309-791-2270 to get a FREE NO OBLIGATION QUOTE on cleaning out your gutters.
Also for your convenience we do accept credit cards as well as cash and checks.
---