Welcome to our Quad Cities Exterior Painting page
Steps to A Quad City Exterior Paint Job: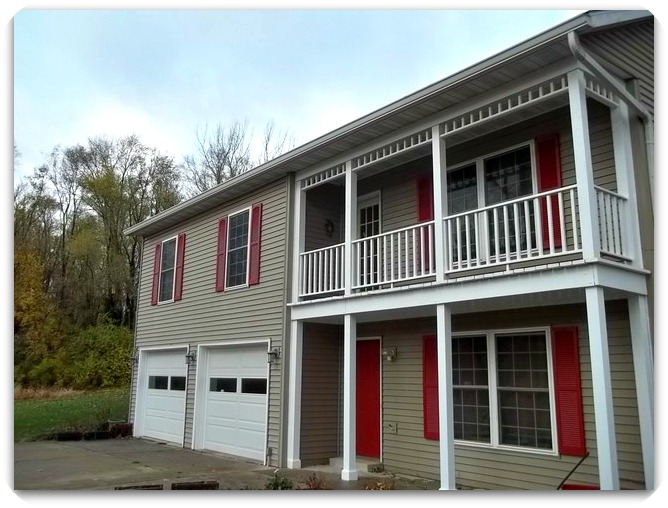 Quad Cities Exterior Painting on this Orion Illinois 2 story House.
Quad Cities Exterior Painting step 1:
For areas of concern they are either power washed or hand washed to remove dirt and mildew.

You wouldn't put new clean clothes on a dirty body would you, I am betting you would take a shower first
Well, thats what needs to happen to your home before a proper exterior paint job can take shape.
Without a clean surface to work with the paint and primer will not adhere the way they were designed to do and failure of the paint job will follow.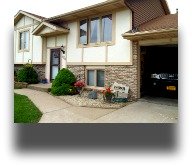 Quad Cities Exterior Painting step 2:
Surface Preparation.
Based on our exterior painting proposal, all loose paint is scraped and all glossy areas are sanded to roughen them up so the new exterior paint will bond.
All gaps are caulked to prevent deterioration, water intrusion and to give a completely finished look to the exterior paint job.

Quad Cities Exterior Painting step 3:
Painting
Repaired areas are primed with a quality oil based primer because here in the QC area painted exteriors can take a beating with the weather so it needs the proper substate preparation for adequate adhesion and a premium quality exterior paint is applied to a uniform finish.
With respect to Exterior Paint let me tell you one truth ....you always get what you pay for so this is one step you don't want to save a few bucks on otherwise you will regret it in the long run.
A premium exterior paint will not only protect your home from the weather here in the Quad City area but also add long lasting beauty to your home too.
All three major paint companies, Sherwin Williams, Pittsburgh Paint and Benjamin Moore carry excellent quality Exterior paint some people have a personal preference and we at That British Painter respect that choice.
Give Darren Crumbleholme a call at 309-791-2270 and schedule a FREE Quote Today....I can bring my color charts out from all three companies and we can have some fun figuring out your new look for your homes exterior.
Quad City Exterior Painting step 4:
Clean Up
Clean up is done at least daily, as well as at the completion of our work.
Paint chips are removed and all our materials are packed up and stored neatly in a location agreed to before the job starts.
Nothing looks worse than coming home after a long day at the office to see a mess all around the paint project ... it looks like no progress has been made and nobody cares
At That British Painter we will treat your site with respect and make sure it is neat and tidy at the end of each shift.
For an No Obligation Free Quote click here now.
Quad City Exterior Painting step 5:
Final walkthrough and inspection.
After we are done we will both go through the exterior painting project to make sure all is done to your satisfaction and create a punch list if necessary repairs need attention before final payout.
Want some Quad Cities Exterior painting tips then check out this page.