Welcome To The Quad Cities Pressure Washing Page.
Below You Will Find A list Of Services That British Painter Offers For Quad Cities Pressure Washing Jobs.
Pressure washing  Quad Cities driveways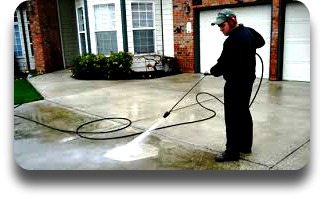 The ravages of time can take their toll on concrete driveways here in the Quad Cities and without even realizing it your expansive driveway has become dingy and grimy and needs a good pressure washing like this quad cities one on the left.
Call That British Painter at 309-791-2270 for a FREE QUOTE today and I will pop around and see what can be done to bring your driveway back to life.
---
Pressure Washing Siding In the Quad Cities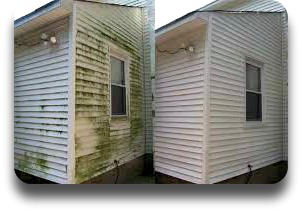 Green moldy siding can seriously devalue your home and creates an unsightly mess but its something that with a good pressure washing with added detergents can be reverse the unsightly staining for the most part.
Give Darren Crumbleholme a Call today and I will come out and see if your situation is correctable....one and two story houses and garages are what we clean here in the Quad Cities and surrounding communities.
Periodic pressure washing of vinyl siding helps to maintain the value and beauty of your home's exterior.
A good quality gas powered pressure washer with a pressure rating of at least 3000 PSI and a flow rate of 4 gallons per minute is the tool of choice to effectively clean your vinyl siding.
We set the spray nozzle to low pressure and use a 25-degree spray tip then add an appropriate cleaning solution (such as mild dish detergent) to the reservoir.
Prep the area, 

Proper preparation is the key to successful vinyl exterior cleaning. Remove any obstacles from the surrounding area.
Relocate,
That British Painter relocates any patio furniture, planters and cover nearby plants or gardens to protect them from the high pressure spray and cleaning chemicals.
Protect,
We Cover all exposed outlets or electrical wires. If outlet covers do not exist we will  seal them with plastic and water-proof tape.
Pre clean stained areas,
That British Painter removes dense areas of mold or mildew with a mixture of household bleach and water. We scrub the area by hand and rinse thoroughly with clean, fresh water.
Test the spray,
We may increase or decrease the power of the spray by adjusting either the nozzle setting or the distance at which  we are holding the wand from the siding in a small test area.
Working in a steady manner,  we pressure wash one section at a time from bottom to top, and sweeping from left to right. 
Rinse the siding with fresh water. 
Working from the top down to prevent streaks, we rinse within approximately 5-to-10 minutes of cleaning, before the detergent is able to dry.
---
Pressure Washing Quad Cities steps and sidewalks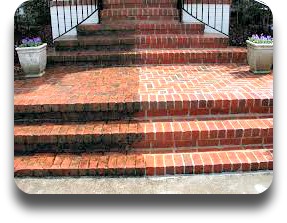 Take a look at your steps and walk down your sidewalks and see if maybe years of grime and dirt have turned them to something less than they should be.
As you can see from the steps to the left the difference can and is dramatic.
Call That British Painter today  at 309-791-2270 and get that pride back you once had and if you're getting ready to sell your home this service can help set you apart from other homes in the marketplace.
---
Pressure Washing Quad Cities Decks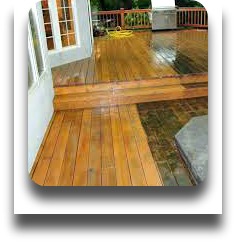 The cost to replace a deck that has not been properly maintained is extremely costly and for the most part is completely avoidable.
Look at the deck on the right and tell me which part you would like to throw a party or relax upon...i am betting the pressure washed side is far more appealing and desirable.
Algae can form on deck boards making them unsightly and also unsafe, if they get wet they can become slippery but a good afternoon of Power Washing from That British Painter can prepare your deck for staining and water sealing thus averting the possibility of replacing the deck completely.
---
Pressure Washing Quad Cities Patios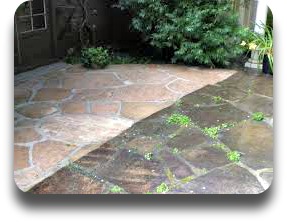 Power wash away the ravages of time from your concrete, brick or natural stone slab patios and make them look like they did when you first installed them and couldn't wait to throw a patio party to show it off.
That British Painter can pressure wash away years of neglect and make you want to start planning your next patio party.
Let Darren give you a FREE QUOTE today on all your pressure washing needs, call 309-791-2270
---
Pressure Washing Quad Cities Fences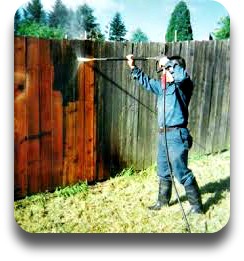 Another extremely expensive item to replace is your privacy fence.
Time and the weather here in the Quad Cities can turn a beautiful fence into an eyesore in  a mere 5 years,  after That British Painter has pressure washed the years of weathering off your fence it can then be stained and sealed to protect it from returning to its weathered state.
So what are you waiting for contact me today and lets get your projects scheduled so you too can plan a great garden party you can be proud of.
---