Welcome To The Quad Cities Fire And Water Damage Page
Below you will Find A List Of Services That British Painter Provides for Quad Cities Fire And Water Damage Jobs.
I spent 3 years repairing fire and water damaged properties in the Quad Cities and Galesburg Illinois and one thing i know is after the flames die down and the fire departments water has drained away the big clean up begins.
I have done everything from tear out to the finished painting and everything in between and it sure can be a daunting project

After the damage has been removed the worst thing is the lingering smell of smoke damage and thats where i excel. All substrates need to be sealed with a shellac based product before you can start to rebuild your home and this is not something a homeowner should attempt as the fumes from the shellac can kill you if your not trained in how to apply this product.
of course after the smoke damage has been abated the process is pretty much the same as any gut rehab...
so I can help with tear-out,insulation, drywall and painting and a have a carpenter that's been doing this for 35 years..i can also recommend a great plumber, electrician and carpet installer.. give me a call and i come and see how I can help you.
I Had a call from a Moline Illinois resident asking me for a quote to repair a little fire damage!!!

If your project looks anything like this call for the backhoe...stick a fork in this one , it's done!!!
A few more pictures of this moline house fire that destroyed this quad cities home.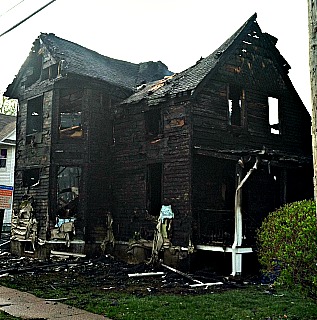 What is amazing is the fact that this home had actually been sided within the last year but the heat from the frames almost oblitarated the siding entirely.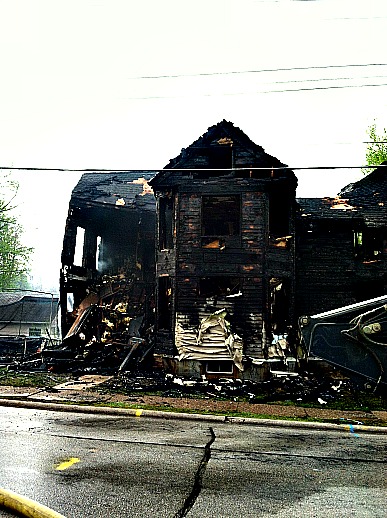 The good news is although the house was destroyed and had to be raised nobody was harmed in this fire and at the end of the day stuff can be replaced people cannot