Welcome To Our Quad Cities Drywall  Installation And Repair Page.
Quad Cities drywall Installation was born out of the needs of past clients whom had walls or ceiling that were "less than perfect" and as I always say "YOU CAN'T PAINT RUBBLE" I have spent as much time fixing walls and ceilings as I have painting.
I guess I am just fussy when it comes to getting to right the first time after all when I leave, my name is connected to that space for a long time to come.
Below you will find A list of services That British Painter Provides for Quad Cities Drywall Installation and Repair Jobs.
overlay of failing plaster ceiling with plaster weld applied ready for plaster installing, Moline Illinois
That British Painter provides drywall hanging services and drywall/ plaster repair in addition to our many other services. 

Born out of a natural extension of the painting business, we have been providing drywall and plaster repair service to our clients since 1988. 
With almost 3 decades of experience we can handle any drywall or plaster repair necessary to get your walls ready for for painting.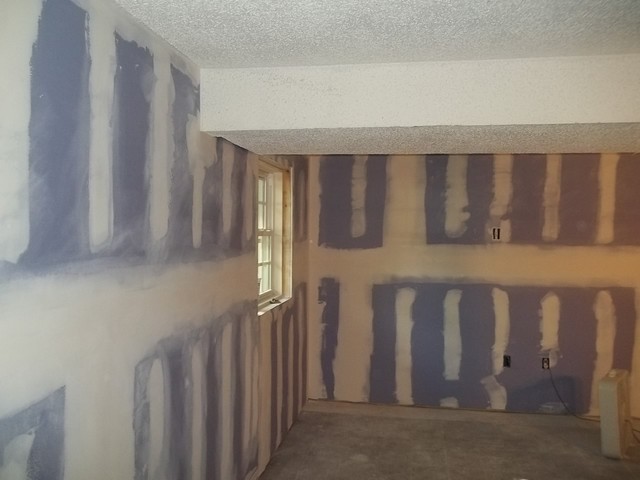 this is from a Bettendorf IA basement remodel after the space flooded
Any time you have a damaged wall or ceiling, feel confident calling That British Painter to come and carefully remove the damaged area and replace it.

Once the area is perfect it'll be ready for a new coat of paint, applied by our expert team.
Call us today for a FREE estimate at 309-791-2270. We'll get the job done fast, on budget and with the highest quality and care.
Trust your repairs to our professional team.